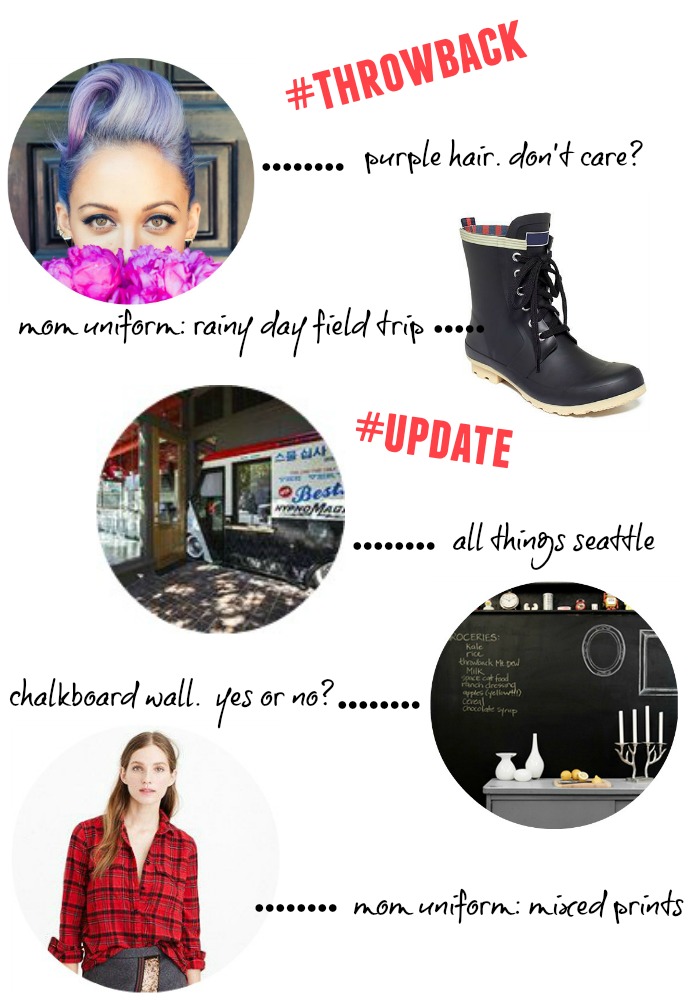 Who doesn't love a throw back Thursday?  I thought it might be interesting to put my own spin on #TBT!  Often times I write a post and then have more to say about the topic after the fact.  Whether it be new information, a total fail, or a shift in thinking.  This week I am following up on five posts from the past.
I loved the comments on this post.   Encouragement to just go for pastel purple hair made me smile!  However, it turns out coloring my dark brunette locks pastel purple would take a good deal labor.  First I would need to bleach all the color out of my hair. Only then could a colorist add the purple.  Often the color isn't quite right so the process has to be repeated.  It makes more sense for me to have a darker, deep shade of purple.  Not sure if I like that look.  So for now, my hair will remain brown.  Not because I think I am too old for purple locks, but because it just sounds like a ton of time and energy that I would rather spend elsewhere!
Mom Uniform: Rainy Day Field Trip
When I build a mom uniform, I use items I already own and also include pieces that would be great additions to my closet.   These Tommy Hilfiger boots are the perfect example.  Oh, those boots!  I did in fact order them online, but my spirits were crushed when they arrived.  These beauties were built for girls that live in places where it doesn't actually rain.  The top of the boots were so large the Seattle rain would have just poured in -soaking my socks and creating misery.  Sadly, they were returned.  Girls in California, scoop these up!
Trove, a restaurant which I included in the round up of All Things Seattle, was just voted restaurant of the year by Eater Seattle.  Now I MUST make a date to check it out!!
It was a resounding YES!  Everyone commented positively about chalkboard walls in the home.  What the hell, it's just paint.  Luckily, my sister-in-law has the perfect formula for painting a chalkboard wall.  I am going for it!  I promise to post once I get this project done.
I may have just found the most perfect plaid shirt for this mom uniform.  If you remember this uniform included mixing plaid and animal print.  This J.Crew plaid shirt is made from the coziest flannel.  It has a longer cut, so it was perfect with my new faux leather leggings.  Paired with my Steve Madden slip-on sneakers, it is still a favorite uniform!!
You might also like:
Tags: all things seattle, beauty, mom uniform, this place my home