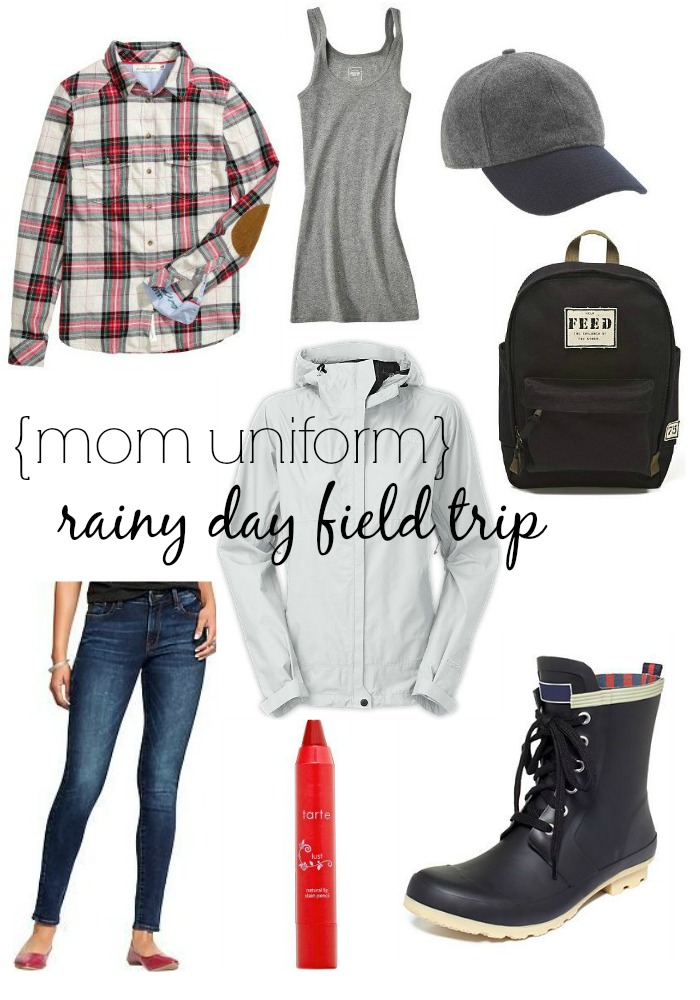 And the rainy season is upon us here in the Northwest.  Lucky me, I am chaperoning an outdoor field trip next week.  70% chance of rain, means a high likelihood our trip is going to be soggy.  Even a rainy day field trip deserves a great uniform.  This time of year it is all about layers.  The temperature is not extremely cold, but the damp can cut right through.
The uniform::
A long ribbed tank and a plaid flannel shirt under a rain shell to guarantee staying dry and warm.  Mid-rise skinnies with lots of stretch.  Lace-up rain boots.  I am seriously coveting these beauties.  I appreciate that they are low and would be easy to walk in all day.  A colorblock wool hat- a necessity for me!  Curly haired girls loathe a rainy day.  Throw on a hat and tie your hair into a low knot and no one needs to see a big, frizzy head of hair.  A backpack to carry all of the essentials.  And finally, a bright lip stain.  While the day may be dreary and the clothes neutral-your lips can be cherry red!
Plaid Shirt//Ribbed Tank//Colorblock Cap//Backpack//Rain Jacket//Rain boots//Lip Stain//Skinny Jeans
Need another uniform??
You might also like:
Tags: design inspiration, mom uniform