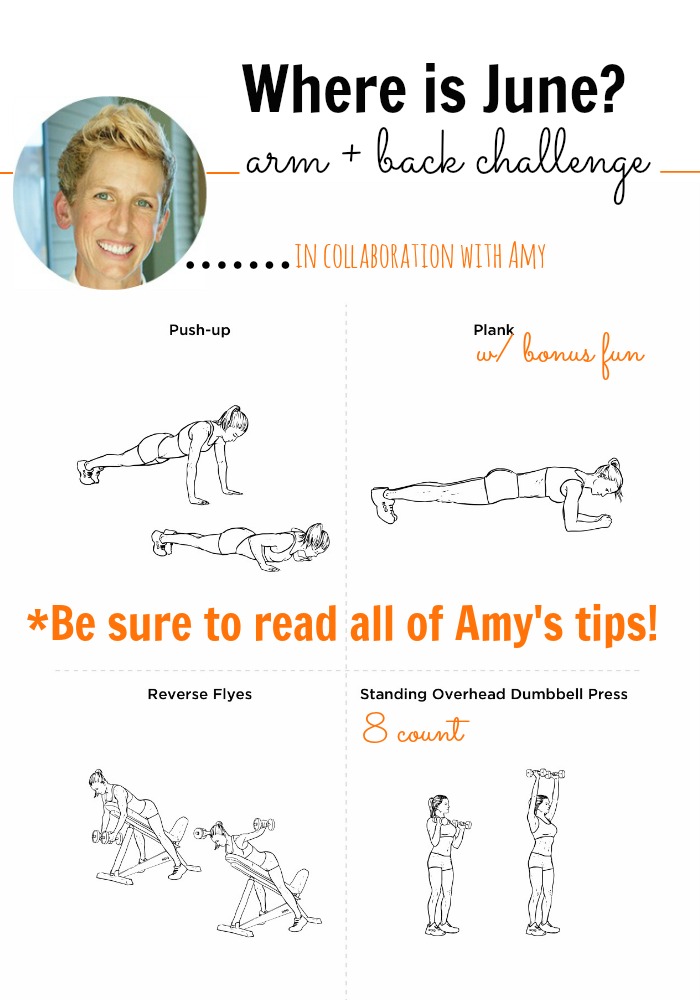 Ok, you super fit, beautiful things!  It is time for another 30 day challenge.  I have been feeling under the weather with an extremely vicious head cold, so I decided not to model the exercises.  Please forgive me.  If you were part of the Core Challenge last month, you will remember that I asked my friend Amy to help build a challenge that: 1.  Will take less than 15 minutes a day.  2.  Require little to no equipment.  3.  Will give us noticeable results.
I am thrilled that this challenges focuses on arms and back!  In an effort of full disclosure, I am a bit obsessed with my arms looking fit and toned. It is one of the first things I look at when I see a picture of myself.  I am sure Amy would give me a fitness based reason why it is vital to have strong arms and back, but my motivation is mostly for appearance sake.
This month Amy did add small hand weights.  She gives alternatives in the printable workout if you don't have any at home.  Also, I tried to find images that matched Amy's exercises- but since she is so crafty it was hard to do.  Be sure to read all of Amy's tips on how to complete each exercise.
Start today, start tomorrow, or whenever you feel ready for it.  Download and print the latest 30 day challenge here.
I'm in!  Are you?
You might also like: