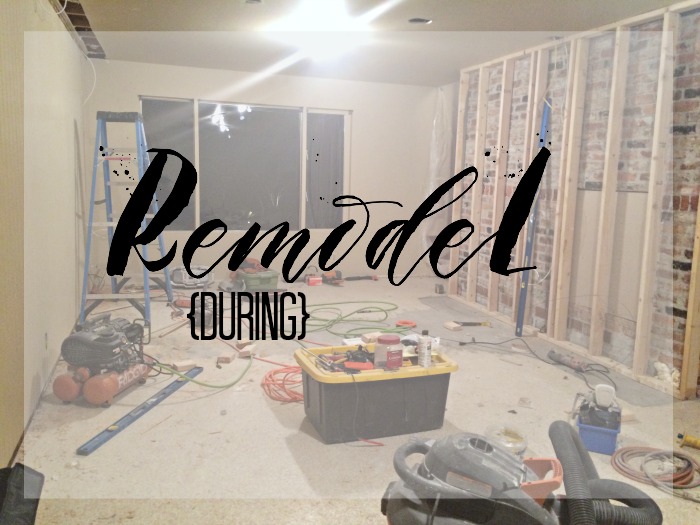 Over a year and half ago, I posted about a possible remodel of our boys' play room.  They had outgrown the need for a dedicated space just for toys.  When they have friends over, they love to watch movies and play video games.  The time had come to invest in making this space something to love.  A little over three weeks ago, the process began!  While the end vision is coming together, the first stages were a little unsettling.  Massive amounts of demolition and sheet rock dust, made it hard to see how it could all go back together.   I guess surviving and thriving during a remodel is a skill.
Here is what I know so far:
1.  Have a clear vision and budget. 
While others can give input and advice, you need to have your own vision for the space, whether it be a family room, a kitchen, or a bathroom. While I am no designer, but I was clear how I wanted the room to function and the short list of needs.  The least sexiest part of a remodel is the budget.  You have to have a budget.  Decide which details are the most important, so that when you have to make compromises, due to budget constraints, you are still guaranteed a final product you will be happy with.
2.  Learn to love Pinterest.
It has literally helped me make almost every decision.  Paint color, tile, trim work, switches.  You name it, I put it in the search box of Pinterest and found what I wanted.  Visually I could narrow down my choices.  I could then find it just by searching or asking for help from my contractor or a friend.
3.  Appoint a project manager.
I was appointed the project manager.  If my husband and I had to decide every little detail together, we would probably end every evening in an argument.  To save our sanity and keep the project moving along, I have made most of the choices and decisions. He is more interested in the final outcome.  Your project manager should be the person who is most interested in the process and the details.  That's me and I love it!
4.  Embrace the mess.
You cannot control it, so just go with it.  Hey, how often do you have an excuse for your house to be a disaster?
I can not wait until we are cuddled up on the couch watching a movie in our new room. I promise to post again about this project!
Would you like a peek @ the inspiration for the room and all its details?  Follow along here!
You might also like:
Tags: this place my home