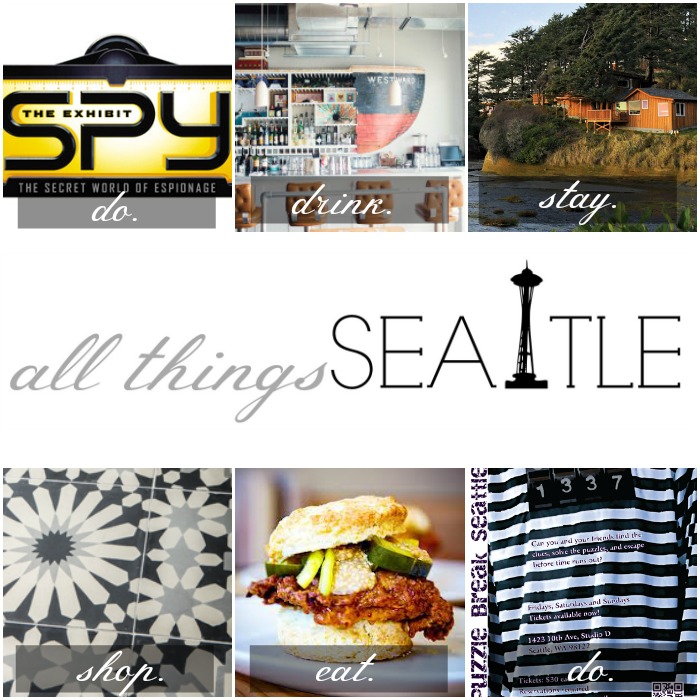 Seattle is an amazing place to live!  In the coming months, I hope to share quick lists of places and happenings around our grand city!  This is my first installment of All Things Seattle.
DO:  The exhibit SPY: The Secret World of Espionage opens at Pacific Science Center on March 29, 2014.  Guests will see real gadgets and artifacts from spies and spy catchers. They will observe spy technologies and learn the tools-of-trade, some recently declassified. This once-in-a-lifetime exhibition grants guests unprecedented access into the world of espionage.  My kids will love this!
DRINK:  Grab a drink and some small bites at Westward.  Situated on the north end of Lake Union, this darling restaurant has sweeping views of Downtown Seattle.  This is going to be the place to be once the warm weather arrives.  Their day dock and amazing patio will make it the hot spot!  With an outdoor fire pit you can reserve for private gatherings, it may just be the place to hang out – RIGHT NOW!
STAY:  The Iron Springs Resort on Copalis Beach, WA seems like the prefect getaway from the city!  This resort, with fully furnished cabins, is the right mix of rustic charm and modern comfort.  I bet any season would bring breathtaking views and great adventures!
SHOP:  Ann Sacks Tile & Stone recently opened a showroom in Seattle on Westlake Ave.  I hope to plan a field trip so that I may swoon over her dreamy tiles and fixtures.
EAT:  I am dying to try a biscuit at The Wandering Goose.  I love having breakfast out during the week.  Maybe I can have my sweet hubby schedule me in for a "breakfast meeting".  No sitter required.  Win-Win!
DO:  Puzzle Break – Seattle sounds like an awesome night out with friends!  You and eleven other people are trapped in a room. As you look around you start to notice strange messages —or are they clues?— hidden around the room. Can you and your friends solve the puzzles, find the key, and get out within an hour?
I hope you find this post fun and inspiring.  Get out and enjoy our city.  Don't live in Seattle?  Plan a trip!  Do you have other ideas for places to eat, shop, drink, play, or stay?  Please leave me a comment, message me, or tag me @seattlejune with the spot and use #allthingsseattle.
{Space Needle art via The Lady Wolf}
You might also like:
Tags: all things seattle