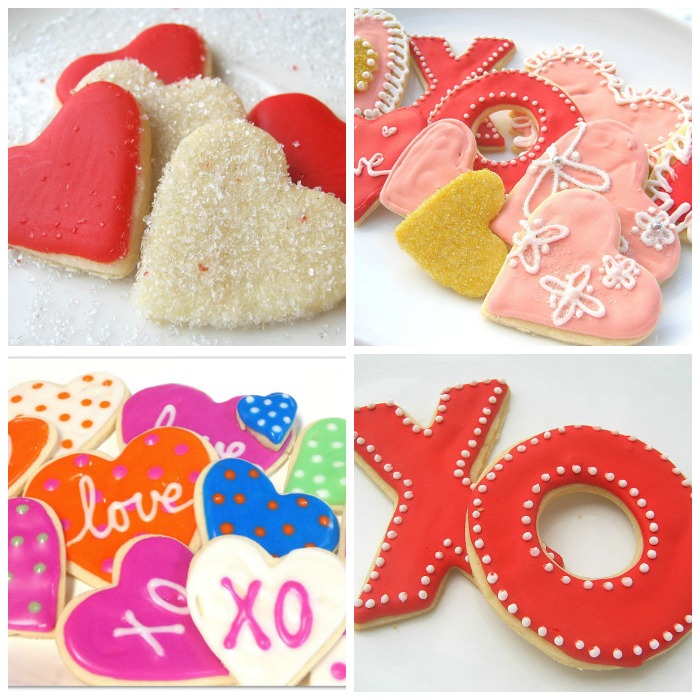 I am a total sucker for a frosted sugar cookie.  I love baking them, and find every excuse to bust out the cookie cutters.  Hey, hey-it's Valentine's Day! My little boys and I cut two pans of cookies last night and lovingly frosted them.  We keep our frosting and decorating super simple.  Icing and colored sugars.  (Anything more complicated and I get frustrated..which ruins all my fun.)
I do have the MOST amazing recipe-which I will share with you.  It comes straight from the domestic-goddess herself.  Who else? Martha Stewart.  I have two tips which should ensure the perfectly baked cookie.  First, roll your dough thick-approximately 1/2″.  If they are too thin, they turn out crispy.  Secondly, don't over bake them.  Watch them carefully and pull them out of the oven when the bottom edges are just golden.
The Basic Sugar Cookie (with a few tips)- from Everyday Food | Holiday '06
2 cups flour
½ tsp. Baking powder
¼ tsp. Salt
1 stick butter  (room temperature)
1 cup sugar
1 egg
1 tsp. Vanilla extract
Whisk together flower, baking powder and salt.  In mixer, beat butter and sugar.  Beat in egg and vanilla.  With mixer on low, add dry ingredients gradually. Beat until combined.  Divide dough in half; flatten into disks.  Wrap each disk in plastic. Freeze until firm-at least 20 minutes (or refrigerate overnight).
Preheat oven to 350 degrees.  Remove dough and let stand for 10 minutes.  Roll dough and cut out shapes on floured surface.  (First tip is to roll dough thick.  This makes softer cookies.)  Bake for 10-18 minutes.  (Second tip is to pull cookies from oven when edges are JUST golden.  You don't want to over bake your cookies.)
Easy icing:
1 ½ cups powdered sugar
3-4 Tbs. Milk.
Whisk together.  Add food coloring if you would like.  Frost cookies and let set, about 20 minutes.
**If you don't like to bake or just short on time, order the GORGEOUS cookies pictured above from the Etsy shop, Sugar Me Desserterie **
You might also like:
Tags: valentine's day