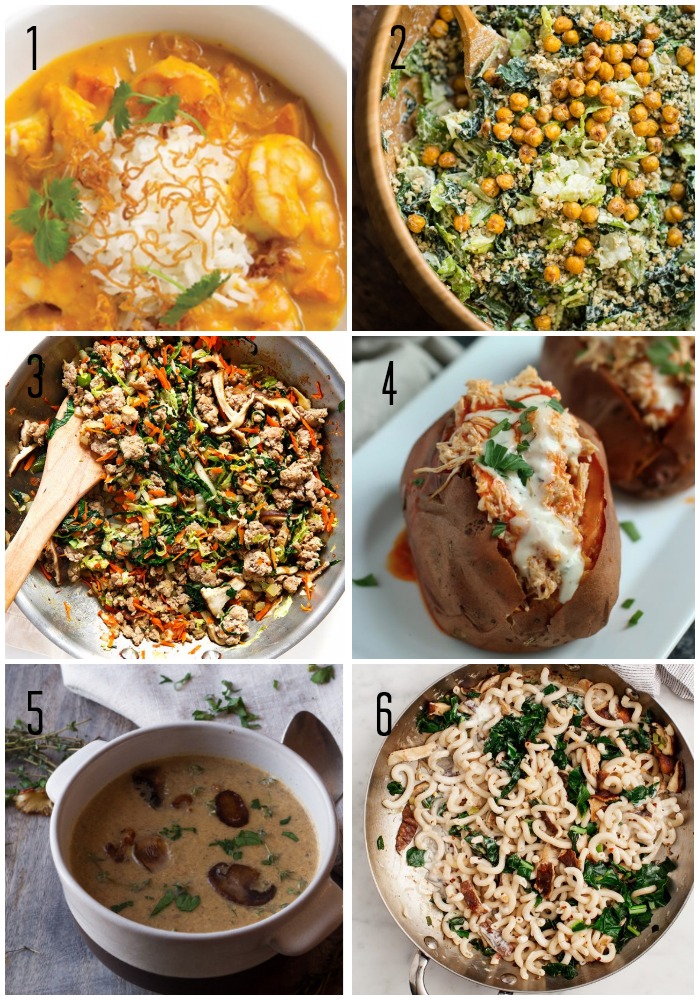 In the Kitchen- A Weekly Plan is written to help limit the stress that comes with putting a healthy dinner on the table.  With busy lives and kids' practices and activities happening at all hours during the evening, dinner might be the only time we have to look each other in the eye and spend uninterrupted time together.  This post provides six meal ideas for you.  Pick and choose which recipes work for your family.  My hope is that you get at least one meal to add to your menu this week!  I have tried them all and provide notes and the link below.
A few things to know in case you are new:
1.  I usually make my plan for the week on Saturday.  I find it's helpful to organize myself so there is less scrambling during the week.
2.  I do all the cooking in my family.  All of it!
3.  My #1 criteria for weeknight meals is quick and easy.  No meal I post [unless a Sunday Dinner or a slow cooker meal] will take more than 45 minutes to prepare.
4.  All meals are 100% gluten free and dairy free.  [Because we are fun like that!] Many are Paleo or Whole 30 because there are terrific communities sharing tons of recipes.  Keep in mind, I only share recipes that are delicious!
5.  My kids do not eat everything I serve.  [And that, my friends, is an entirely different post.]
The Plan:
I have posted about this dish before and I have made it for years!  You could easily substitute chicken if you don't like seafood.
2.  Crowd Pleasing Vegan Caesar Salad  (Weekend Lunch)
This is a labor intensive salad, with lots of moving parts.  It was worth the effort and would be "crowd pleasing".  Probably best to save for the weekend.  Maybe serve for brunch with a Bloody Mary?
So easy and packed with flavor.  You could serve this over rice if your family insists.
4.  Slow Cooker Buffalo Chicken
It takes 5 minutes to throw the ingredients in the slow cooker, but this chicken is so amazing.  If you don't ordinarily cook with ghee, I would recommend you try it.  It adds a rich flavor.  (You can always sub butter for ghee.)  Serve over sweet potato, baked potato, on a bun, or on nachos.  The list is endless.
This was a perfect Sunday evening soup.  Of course you must love mushrooms.  I used my immersion blender and it worked perfectly.  For those of you who can handle bread, fresh focaccia would be delightful.
6.  Creamy Vegan Shiitake & Kale Pasta
Always a pasta dish!  Can't help it, I'm Italian.  You obviously do need to use gluten free pasta.  My husband teases me that every plan must include kale.  He isn't a huge fan.  Spinach would work too.
Save
You might also like: