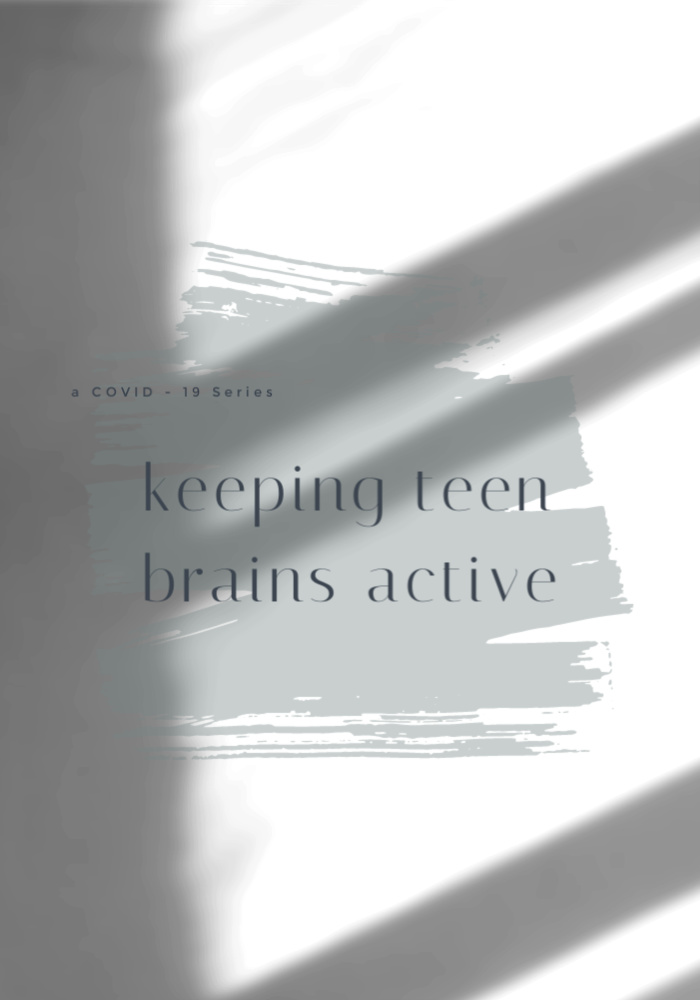 Well, it arrived. The first Monday of a 6-week school closure. Last Thursday, as we absorbed the idea of having kids home for weeks on end, parents went into full panic mode. I say that with love and compassion. I know this comes from a place of love and a need to have some semblance of control. I totally get it! Friends on social media started posting their homeschooling weekly lesson plans. Again, I get it… but I had to smile. You need to consider recreating school at home is impossible. Your kitchen table is not the classroom and YOU are not their teacher. (Even if that is your profession!) My advice: Be creative and give your kids choice. This is the perfect time to show kids that we never stop learning and you don't need a classroom to expand your mind.

Be Creative
Think of this as a time for your kids to do all those amazing things they LOVE (or could love) to do or have interest in, but don't have any time to do it because of the rigorous academics they navigate everyday.
Do they sing or play an instrument? Learn a new song or piece. Write a song and record it. Create a video and send it to a loved one that you can't see right now or post to YouTube
Do they love visual arts? Draw, paint, collage, etc, etc,? Not an artist? Use YouTube to challenge them. Try these tutorials for easy how-to videos channels: Happy Drawings and Draw So Cute.
Create a journal or Vlog that documents COVID-19 and their weeks at home. They are literally living in history right now! This is something that future generations will learn about. Record history. Report on the news, events and what they are doing!
Write a short story, graphic novel, poems. Students rarely get a chance to write for enjoyment. This is the perfect time! Need a story starter? This site will help you generate a first line.
Read a book/Watch a movie. This list is an awesome resource. If you can, buy from a local bookstore, many are delivering right to your door.
Visit a virtual museum. Here are some lists that have been already created. List 1/ List 2 / Google Arts & Culture
Watch a TED-Talk. Here are the 25 Most Popular TED-Talks.
Life Skills:
Let's be honest. Many of our teens are lacking in the life skill department. Sooner then later (we hope) they will be launching from our nest and they need to be a bit savvy in the ways of the world. Big W is going to study for his written driver's test and Little Man is going to take the online course for his boater's license.
Learn to cook a meal or bake a treat. Have them pick a favorite meal or look through the many cookbooks you have and never use! Treats are always a great motivator. Who doesn't love a cookie or a tart?
Create a list of home projects that need to get done. If you don't know how to do it, harness the power of YouTube. Believe me, there is a how – to video on anything you need done around your house.
Learn to wash, fold, and put away your own clothes!
Go for a drive. For my "almost" licensed driver, this is a great activity. Put a destination into Google Maps and away we go!
Give Them Choice
Teen life has been turned upside down and they are not happy about it! They may be disgruntled and nasty. Giving them reasonable choices throughout the day will make this time be a little less horrible for them. Although it's hard to believe right now, life will return to normal. Until then, involve your teen in brainstorming activities that they will "buy" into and make the best of this strange time together.
Let's crowdsource our ideas. Add any additional activities/ideas/sources of inspiration and I will update the post regularly! Be well. Spread kindness.
Tags: learn