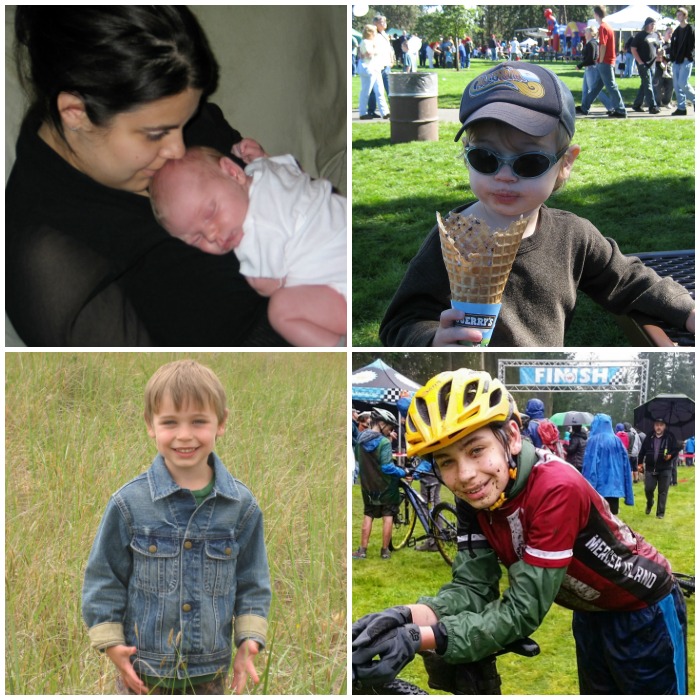 Today marks 13 years of being a mother.  It actually seems astonishing to me, but then I look at pictures and it is all too real.  My Will was the sweetest and happiest baby on the block.  With his blond curls and killer blue eyes, I was smitten from minute one.  There was something reassuring about those early days.  Lucky for me I didn't have any postpartum depression or sadness.  It was actually quite the opposite.  I instantly loved every part of having a baby and felt confident as a mother.
Then Will became a toddler and a pre-schooler.  All of my conceptions that I was "doing it right", that I so naively assumed when he was tiny, were thrown out the window!  To say he was a spirited child is a complete understatement.  I read every book, tried every strategy and cried and yelled a ton!  He was so darn cute and inquisitive, but never easy.  I would later learn that many of our battles were directly related to ADHD, but at the time I was just a horribly ineffective mother (or so I believed).  Adding Henry to the mix upped the ante.  I had become a mom to two ridiculously over-active boys and I was outmatched on a daily basis.
Will has grown into an amazing young man.  He is passionate and fun-loving.  I have never met anyone so willing to try new things without trepidation.  His interests are alternative and that is 100% awesome!  I don't particularly love Star Trek, but I listen intently to all of his factoids.  Our path together has been anything but straight. But he is hitting his stride and has matured in ways I didn't think possible even a year ago!
I'm not sad that he is turning 13 because he is so pleased about getting older.  Don't you remember that feeling?   However, I am keenly aware that our precious time together under one roof is ebbing.  He is finding independence and needing me less and less.  Proud to be his mom doesn't even come close to describing how I feel.  I cannot wait to see what lies ahead for this beautiful creature.  I am the lucky one!
You might also like:
Tags: life with boys