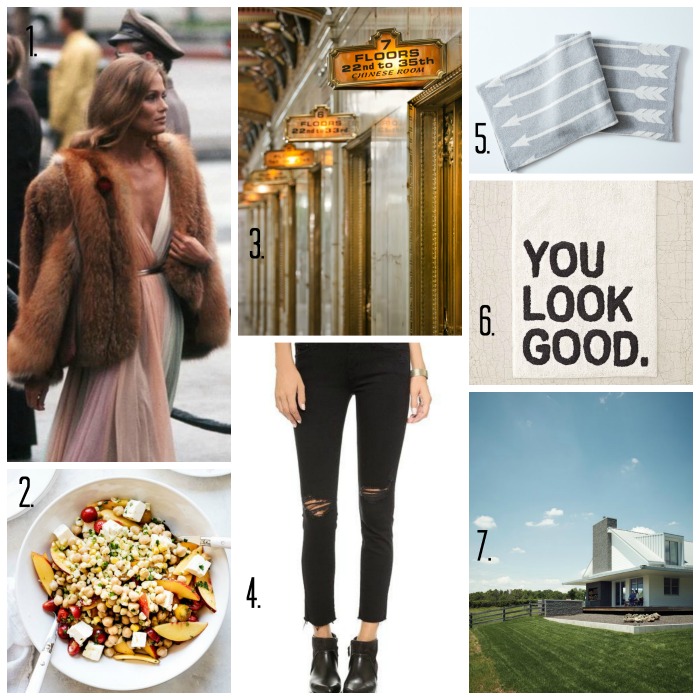 I'm so happy it is Friday!  This week seemed exceptionally long, but I did accomplish quite a bit.  Finishing a few projects that have been lingering always feels good.  Fall officially starts next week, but I can already feel it in the air.  I swapped out my closet and I am ready for long sleeves and boots.  What are you up to this weekend?
A few things that inspire and interest me this week:
1.  The epitome of cool.  This snap shot of Lauren Hutton feels like it could have been taken on the streets of NY this week.
2. This salad sounds so delicious.  If peaches are out of season, I'm thinking you could swap pears in their place.
3.  Looking for something different to do in Seattle?  The Smith Tower has been re-imagined with a general store and a speak-easy bar.  Great views of the city in a historical building.
4.  These jeans.  Is 42 too old for rips and frays?  I say, no.
5.  Colder weather is on its way.  Time to cuddle up and read.  How perfect is this blanket?
6.  A positive message each and every morning.  Everyone could use a friendly bathmat.
8.  A modern farmhouse in Missouri.  This family knows how to dwell well.
You might also like:
Tags: in the details