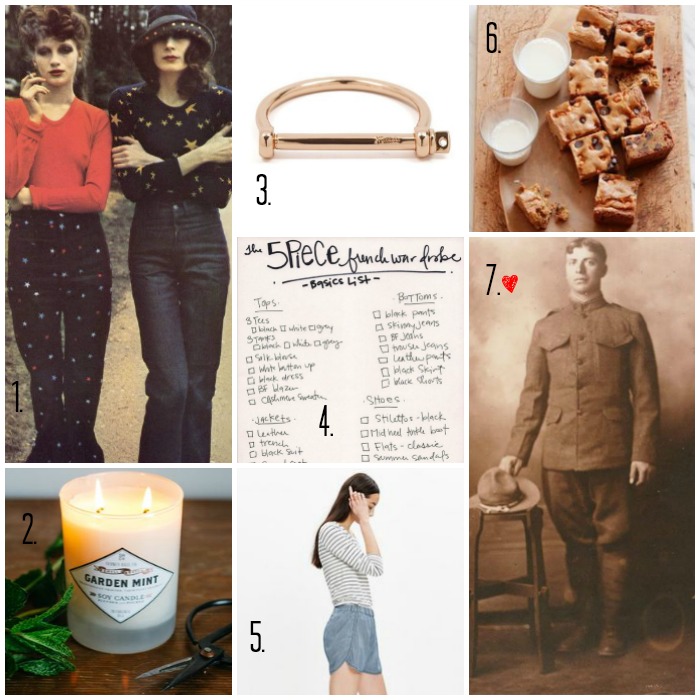 And some how it is Memorial Day weekend.  The boys have exactly one month until summer break begins.  I think we might JUST make it!  I hope you have something planned for the long weekend.  We are spending time near the river in the woods.  Food, wine and babies!  I look forward to time holding my two month old nephew, while my unruly children shoot BB guns and throw rocks in the river for hours!
A collection that inspires and interests me this week:
1. Anjelica Houston and friend circa 1971.  Their patriotic style is everything.  I feel this picture could have been taken today!
2.  This garden mint candle fills the room with the most lovely scent almost instantly.
3.  My birthday is months away, but this rose gold bracelet will be on the top of the list.  It is even better in person!
4.  The 5 piece french wardrobe. A basic list, but so fantastic.
5.  I need to up my shorts game this summer.  Need to take a trip to the mall and try these on.
6.  Butterscotch Chocolate Chip Bars. That's all.
7.  My grandfather Giuseppe Scarcello, an Italian immigrant.  He served in the US Army in WWI, which earned him United States citizenship.  Thank you to all who have served our country.  xoxo
You might also like:
Tags: in the details