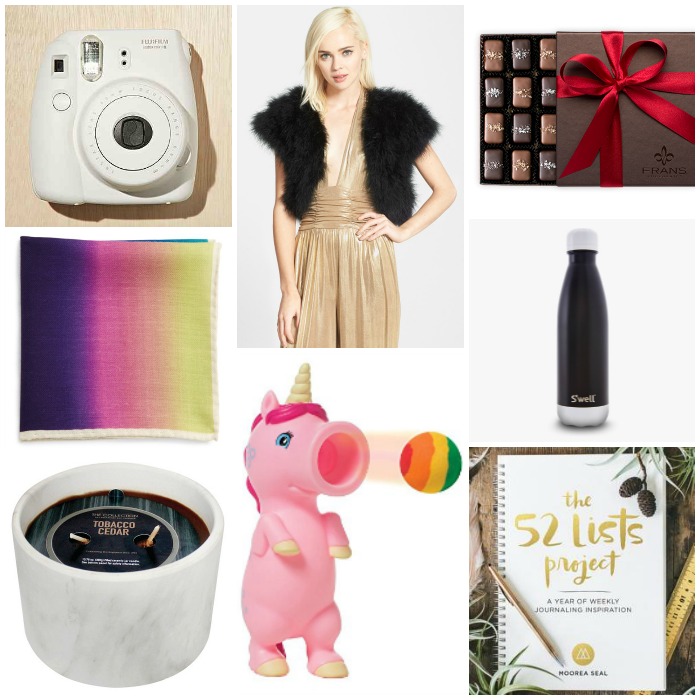 Oh boy, it's getting real!  Time is ticking and you are running around like a crazy person.  You are existing on little sleep, too much caffeine, and not enough workouts.  You have lists.  Many lists.  With only a week until the big holiday, it is somewhat risky ordering something online.  I thought I would share a few "down to the wire" gift ideas that I have seen while out and about.  Many are still available for shipment as well.   In my opinion, they are all winners!
1.  Instax camera.  Instant camera fun for kids, teens and adults.  Shake it like a…..
2.  Pocket square.  For the gentleman in your life.  Keep him classy.
3.  Marble candle.  Smells woodsy and looks beautiful on your bedside table. #targetdoesitagain
4.  Faux fur vest.  In black or pink, this little vest is fantastic.
5.  Wild Hog Popper.  The gift of the season, in my opinion.  Tons of creatures to choose from.
6.  Salted caramels.  Good food is always a great gift.  Buy local.  Shop small.
7.  Swell water bottle.  Keeps liquids cold or hot.  Many colorways for everyone on your list.
8.  The 52 Lists Project.  A diary of lists.  Out of stock at Amazon, but many stores have it stocked.
You might also like:
Tags: holiday