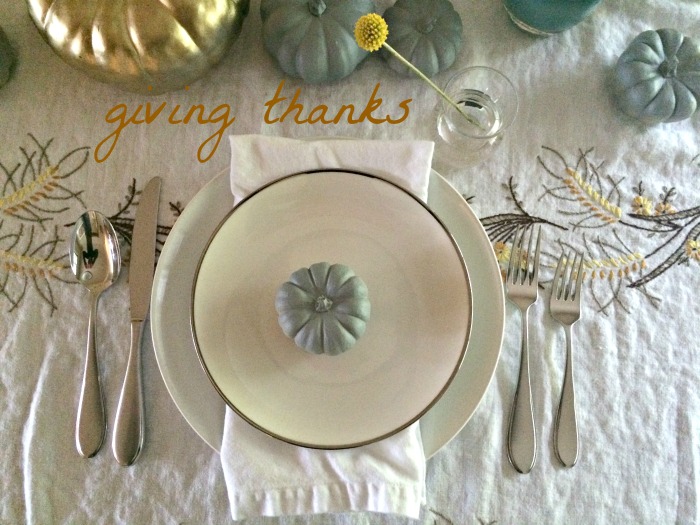 I am not setting my own table this holiday, but if I were-this is the simple approach I would take.  I spray painted real mini-pumpkins matte gray and have been using them as decor since Halloween. I would place one pumpkin at each place setting along with a single bud vase.  Any small flower from the grocery store will do.
The rest of the table has a soft palette using natural elements .  A potted succulent, more gray pumpkins, assorted glassybabies, flowers, and a pop of gold.  It is all extremely budget friendly.  Nothing is safe from a spray paint can in my house.  My favorite details is the embroidered linen table cloth.  Passed down to me from my mother, it was made by hand as a wedding gift in 1972.  I love the colors and intricate, repeating pattern.
I wish you very Happy Thanksgiving.  May your table be surrounded by loved ones and good cheer!
{I am so sad the picture quality is so poor.  I ended up having to use my iPhone.  Gloomy Northwest days do not equal lovely indoor shots.  At least in my house.}
You might also like:
Tags: holiday