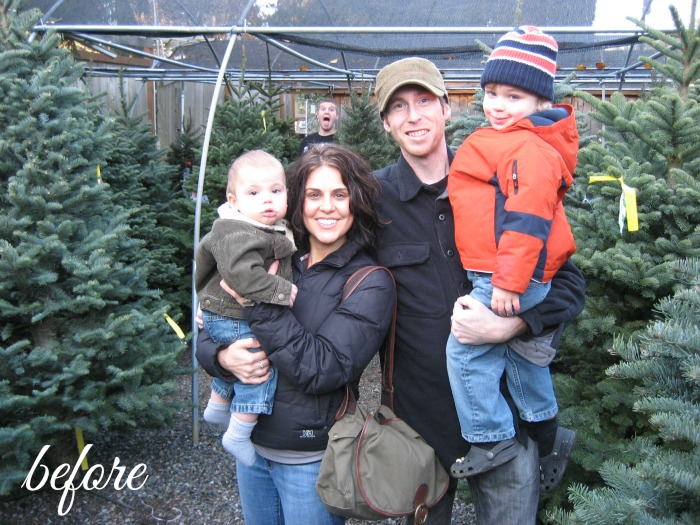 Let me tell you a short story:
The year was 2007.  We were about to celebrate Little Man's first Christmas.  Somehow there was not one photo of all four of us shot during his first 11 months of life. Mind boggling!  So in desperation I took my camera to the tree lot with a set purpose of getting a family picture to use on our Christmas card.  We asked a stranger to snap the photo and at quick glance it looked great.  When I got home and loaded it onto the computer, my mouth dropped open.  Some yahoo decided it would be good fun to photo bomb my picture.  Oh, I was not pleased.  Pissed, actually!  And since I had not, at this point, released my need to have the "perfect" family picture, I just faked it!  You will see that in the picture I sent out I converted it to black and white and edited out the photo bomber.  Classic and perfect.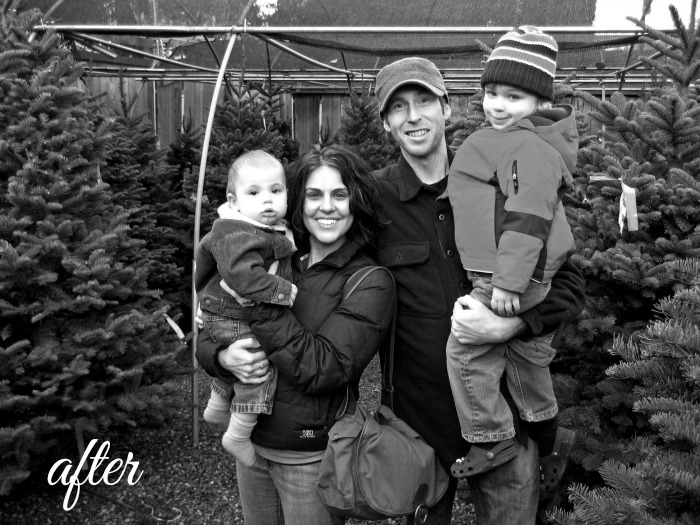 If that had happened this year, I would have sent out the photo with the idiot in the background!  Yes, photo editing can produce the most perfect picture.  However, as timed has passed I much prefer to send photos that show my messy, chaotic, and fun-filled life.   I won't be faking a perfect photo this year.  But, yes, I still had a to force a family picture to be taken.  Why is this so darn hard??
On the top of my list this week is to complete our holiday cards!  How about you?
My favorite online resources for photo cards:
Pear Tree Greetings, Minted, Tiny Prints, Shutterfly, Pinhole Press
Every single site is having a sale or discount on cards right now!  Check it out.
PS::  my guide to sending out your holiday cards.
You might also like:
Tags: holiday